THE GO-DEVILS 新作限定7" Bomb on 4/7(日)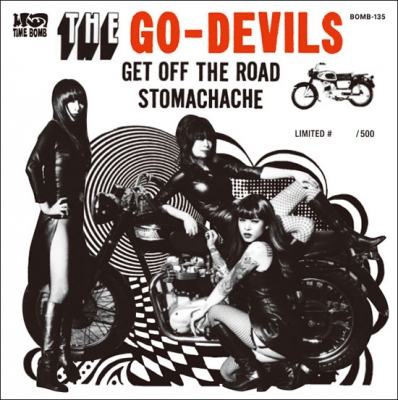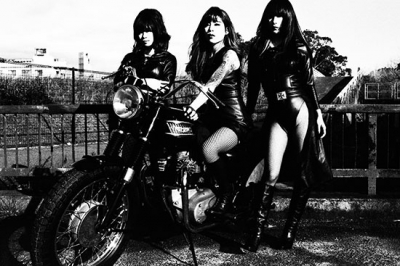 THE GO-DEVILS - GET OFF THE ROAD c/w STOMACHACHE
500枚限定ナンバリング 7" [ BOMB-135 ] 税込 ¥1500
60's FUZZ-GARAGE PUNKサウンド&悩殺コスチュームで、海外
ガレージ・シーンでも人気の大阪が誇るベテラン・ガールズ・ガレー
ジ・トリオ「ザ・ゴー・デヴィルズ」!
米スプラッター・ゴア映画界巨匠ハーシェル・ゴードン・ルイスの
'68年怪作「She-Devils on Wheels」劇中曲で、THE CRAMPSの
カヴァでも知られるカルト・ナンバーのキラー・カヴァ!逆面の自作
悩殺FUZZ-GARAGE共々に昇天!
500枚限定ナンバリング 7" [ BOMB-135 ] 税込 ¥1500
※タイムボム通販時送料は、代引、佐川元払 各¥300(メイル便不可)
2019.4/7(日) タイムボム&バンド・ライブ会場先行販売!
※ 4/7(日)BROTURK & THE GO-DEVILS W x レコ発 @ Socore Factory
Open:19:00 / Start:19:00 / Adv:¥1,500 (D別)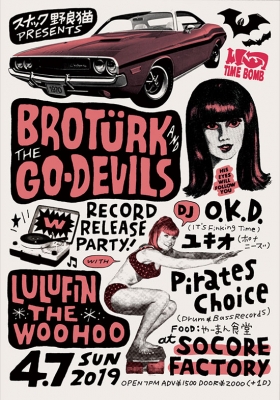 こちら('06年) 3バンド収録コンピ V.A.-Demonic Freak Scene (CD)
でも THE GO-DEVILSの4曲収録!
Legendary Osaka female fuzz garage trio
who play incredible 60's Fuzz Garage style
with sexy & cute vocal & leather costume fashions!
A killer cover of the theme from Herschell
Gordon Lewis' biker-gore epic (covered by
the Cramps). Backed with another super-sexy
fuzz bombshell!
500 Limited numbered 7" [ BOMB-135 ] ¥1500 (inc.tax)
Only available at Time Bomb & band's show. Out on Apr.7th, 2019
APR.7th Sun. BROTURK & THE GO-DEVILS double
release party@ Socore Factory.
Open:19:00 / Start:19:00 / Adv:¥1,500 (w/o drink)
Also their 4-tracks on 2006 V.A.-Demonic Freak Scene (CD)
2019.03.27 Wednesday
-
-
-
-